Dinnertime Recipes
Baked Penne
Summary
What You Need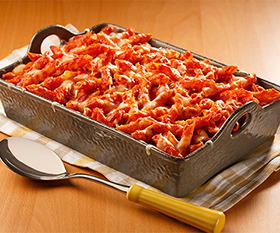 Instructions
Preheat oven to 375°F.
Coat 2 qt. baking dish with nonstick cooking spray.
Cook pasta according to package instructions and drain.
Mix together cooked pasta, pasta sauce and ¾ cup mozzarella.
Spoon evenly into baking dish.
Cover with foil and bake for 20 minutes.
Remove foil and sprinkle with remaining ¾ cup mozzarella.
Bake an additional 5 minutes or until cheese is melted.
Top with fresh basil.
Cooking time (duration)
40 Minutes
Number of servings (yield)
6 Servings
Category
Dinnertime
Submitted by
Classico
Ratings & Reviews
Great meal for a cold night...add some homemade garlic bread and you are all set! However, my kiddos love when I make pasta and green-beans..LOL..SO Cute!
Bobbi P. – 10/20/2014 –