Dessert Recipes
Yummy Mummy Cookies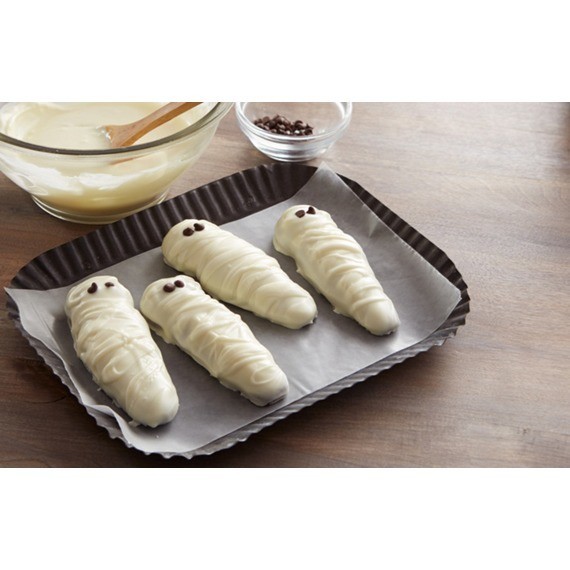 Instructions
Beat butter, sugar and vanilla in large bowl until creamy. Add eggs; beat well. Combine flour, cocoa, salt and baking soda; gradually add to butter mixture, beating well. Stir in 1 cup small chocolate chips. Refrigerate dough 20 minutes or until firm enough to handle.
Heat oven to 350°F. For mummy body, roll 1 tablespoon dough into 3-1/2 inch long carrot shape; place on ungreased cookie sheet. For head, roll 1 teaspoon dough, roll into ball the size of a grape; press onto wide end of body. Repeat procedure with remaining dough.
Bake 8 to 9 minutes or until set. Cool slightly; remove from cookie sheet to wire rack. Cool completely.
Microwave 2 cups (12-oz. pkg.) white chips and 1 tablespoon shortening in microwave-safe pie plate or shallow bowl at MEDIUM (50%) 1 minute; stir. If necessary, microwave at MEDIUM an additional 15 seconds at a time, stirring after each heating, until chips are melted.
Place 1 cookie at a time on table knife or narrow metal spatula. Spoon white chip mixture over just the top of cookie to coat; place on wax paper. (If mixture begins to thicken, return to microwave for a few seconds.) Melt additional chips with shortening, if needed for additional coating. As coating begins to set on cookies, use toothpick to score lines in body and on face to resemble mummy . Place two small chocolate chips on each for eyes. Store, covered, in cool dry place. Makes about 30 cookies.
Number of servings (yield)
30 Cookies
Category
Dessert
Related

All Hershey Recipes
Ratings & Reviews
Be the first to rate & review this recipe!