Dessert Recipes
Valentine Crispy Cutouts
Summary
Pretty and tasty Valentine treat!
What You Need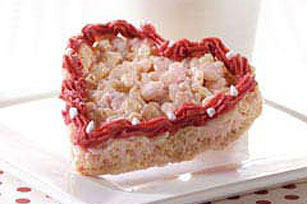 Instructions
MELT butter in large saucepan on low heat. Add marshmallows; cook until marshmallows are completely melted and mixture is well blended, stirring constantly. Remove from heat. Add food coloring; mix well.
ADD cereal; mix well. Press onto bottom of 15x10x1-inch pan sprayed with cooking spray. Cool completely.
CUT into heart shapes with greased 4-inch cookie cutter. Decorate with icings as desired.
Cooking time (duration)
Prep: 20 min Total: 20 min
Number of servings (yield)
12
Category
Dessert
Submitted by
KRAFT
Ratings & Reviews
I made these for my kiddos as an after school snack...it was a trial run for that special day. Not Valentines Day my son's b-day!...Which also happens to be Valentines Day. ;)
Anonymous – 01/28/2014 –
Perfect Valentine's treat!
Gina S. – 02/07/2014 –