Dessert Recipes
Sweetheart Chocolate Cupcakes
Summary
What You Need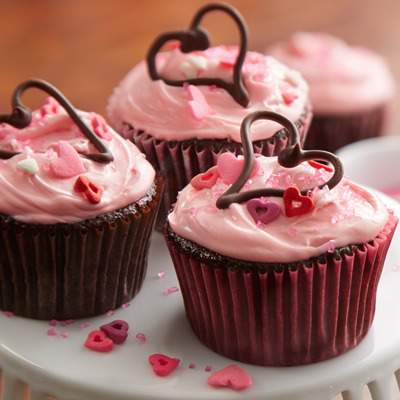 Instructions
Heat oven to 350°F. Line about 30 muffin cups (2-1/2 inch in diameter) with paper or foil baking cups.
Stir together sugar, flour, cocoa, baking powder, baking soda and salt in large bowl. Add eggs, milk, oil and vanilla; beat on medium speed of mixer 2 minutes. Stir in boiling water (batter will be thin). Fill cups 2/3 full with batter.
Bake 22 to 25 minutes or until wooden pick inserted in centers comes out clean. Cool completely in pans on wire rack.
Frost with vanilla frosting or tint all or part of frosting with a few drops of red food color to get pink. Stir in chopped maraschino cherries, if desired. (For best results, dry cherries thoroughly on paper towels.) Garnish with decorative candies, sprinkles and OPEN CHOCOLATE HEARTS, if desired
OPEN CHOCOLATE HEARTS: Cover tray or cookie sheet with waxed paper. Place 1 cup HERSHEY'S SPECIAL DARK Chocolate Chips or HERSHEY'S Semi-Sweet Chocolate Chips in medium microwave-safe bowl. Microwave at MEDIUM (50%) 1 minute; stir. If necessary, microwave at MEDIUM an additional 15 seconds at a time, stirring after each heating, until chips are melted and smooth when stirred. Spoon melted chocolate into small squeeze bottle, pastry bag or strong resealable plastic food storage bag fitted with writing tip*. Pipe freehand hearts or follow patterns by drawing heart shapes on paper that is slipped under the waxed paper. Refrigerate hearts about 30 minutes or until firm.* Plastic food storage bags can be used without the writing tip. Simply fill bag and then snip off a very small section of one bag corner.
Number of servings (yield)
About 30 cupcakes
Category
Dessert
Related

All Hershey Recipes
Ratings & Reviews
These are the perfect addition to my Valentine's Day dinner!!....It's a sweet treat for my sweet love!
Anonymous – 02/04/2014 –