Dessert Recipes
Secret Admirer HUGS and KISSES Cupcakes
Summary
What You Need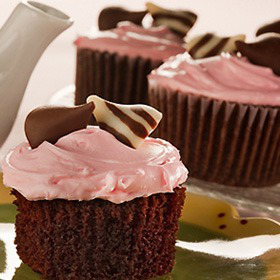 Instructions
Heat oven to 350°F. Line 30 muffin cups (2-1/2 inches in diameter) with paper or foil bake cups. Remove wrappers from 15 KISSES and 15 HUGS.
Beat butter, shortening and sugar in large bowl until fluffy. Add eggs and vanilla; beat well. Stir together flour, cocoa, baking soda and salt; add alternately with water to butter mixture, beating until well blended. Fill muffin cups 1/2 full with batter. Place 1 KISS or 1 HUG on surface of each cup; do not press candy into batter.
Bake 20 to 23 minutes or until tops spring back when touched lightly. Cool completely in pan on wire rack.
Remove wrappers from remaining candies; set aside. Stir several drops red food coloring into frosting for desired shade of pink frosting. Frost cupcakes. Top each cupcake with 1 KISS and 1 HUG.
Number of servings (yield)
30 cupcakes
Category
Dessert
Related

All Hershey Recipes
Ratings & Reviews
Can you say...Amazing!?!...That is the word that comes to mind when I made this recipe. I love chocolate and when you add my favorite which is Hershey's Kisses...I know it's a winner! Thanks for sharing!!
Bobbi P. – 02/04/2015 –