Dessert Recipes
Santa Hat Topped Red Velvet Cupcakes
Summary
What You Need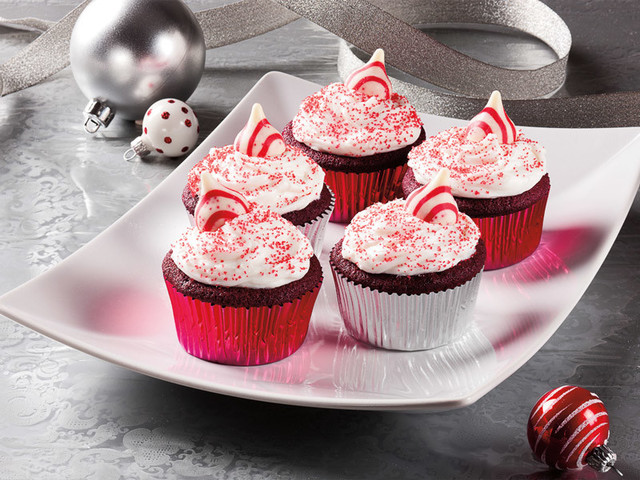 Instructions
Heat oven to 350°F. Line muffin cups (2-1/2 inches in diameter) with paper or foil baking cups.
Beat butter and sugar in large bowl; add eggs and vanilla, beating well. Stir together buttermilk and food color. Stir together flour, cocoa and salt; add alternately to butter mixture with buttermilk mixture, mixing well. Stir in baking soda and vinegar. Fill muffin cups about 1/2 full with batter.
Bake about 20 minutes or until wooden pick inserted in centers comes out clean.
Cool completely in pan on wire rack.
Set aside about 3/4 cup frosting; frost cupcakes with remaining frosting. Generously sprinkle tops of frosted cupcakes with green or red colored sugars. Remove wrappers from candies. Place reserved frosting in heavy duty (freezer) resealable food storage bag. Cut off one corner of bag about 1/4 inch from point. Squeeze quarter-sized dollop of frosting onto top of cupcake; push a HERSHEY'S KISSES Candy Cane Mint Candy or HERSHEY'S KISSES Milk Chocolate into center of dollop so that frosting comes up around bottom edge of candy piece forming the "fur" cuff of Santa's hat. Place small dab of frosting on tip of candy piece to finish hat. Makes about 30 cupcakes.
Number of servings (yield)
30 cupcakes
Category
Dessert
Related

All Hershey Recipes
Ratings & Reviews
Be the first to rate & review this recipe!