Dessert Recipes
Reese's Pumpkin Brownies
Summary
What You Need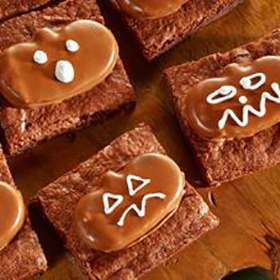 Instructions
Heat oven to 350°F. Grease 13x9x2-inch baking pan.
Place butter in large microwave-safe bowl. Microwave at HIGH (100%) 1 minute or until butter is melted. Add cocoa; stir until smooth. Add sugar, salt, eggs and vanilla; beat with spoon until thoroughly combined. Add flour and baking powder; mix well. Stir in chocolate chips, if desired. Spread batter in prepared pan.
Bake 30 minutes or until top is dry and brownies begin to pull away from sides of pan. Cool several minutes; mark brownie surface into 12 brownies, but do not cut. Cool an additional 30 minutes. Remove wrappers from peanut butter pumpkins. Place unwrapped pumpkin on each marked brownie. After several minutes press down lightly on pumpkin. (There should be enough heat from the brownie to melt the pumpkin bottom slightly so that it will hold to the top of the brownie when cool.) Cool completely.
Tint frosting with food colorings, if desired. Place frosting in pastry bag with small tip or place frosting in heavy-duty (freezer) food storage bag and cut tip of one bag corner about 1/4 inch from tip. Decorate pumpkins with desired facial features.
Number of servings (yield)
12 pumpkin brownies
Category
Dessert
Related

All Hershey Recipes
Ratings & Reviews
These are great!!!!
Bobbi P. – 09/30/2014 –