Dessert Recipes
REESE'S Peanut Butter Cup Sandwich Cookies
Summary
What You Need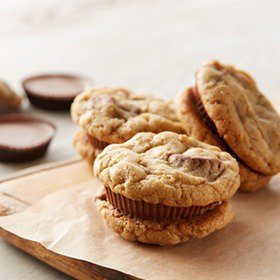 Instructions
Beat butter, shortening, granulated sugar and brown sugar until well blended. Add egg; beat well. Stir together flour, baking soda and salt; blend into butter mixture. Stir in oats and chopped nuts, if desired. Stir in mini peanut butter cups. Cover; refrigerate several hours or overnight.
Heat oven to 350°F. Shape dough into 1-inch balls. Place on ungreased cookie sheet.
Bake 10 to 12 minutes or until almost set. Cool slightly; remove from cookie sheet to wire rack. Cool completely.
Remove wrappers from snack size peanut butter cups. For each sandwich cookie, place one peanut butter cup on flat side of cookie; place on paper towel. Microwave at MEDIUM (50%) 10 to 15 seconds; gently press second cookie on peanut butter cup. Wait several minutes for peanut butter cup to soften and adhere to second cookie. Eat immediately or allow chocolate to set before storing cookies. Makes about 18 sandwich cookies.
Number of servings (yield)
18 Cookies
Category
Dessert
Related

All Hershey Recipes
Ratings & Reviews
And to think Reese's couldn't get any better!! A+ from the Smith House!!
Jess S. – 04/06/2015 –