Dessert Recipes
Red, White and Berry Cheesecake Bars
Summary
What You Need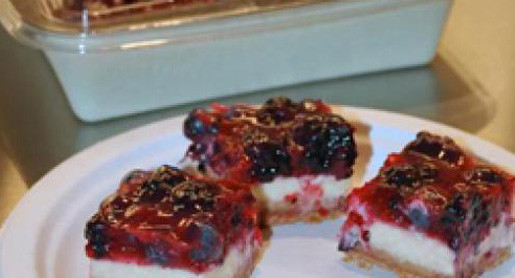 Instructions
To prepare the crust: Spray a 9-inch square baking dish with cooking spray and set aside.
Preheat oven to 375 degreesF.
Process the graham crackers in a food processor to fine crumbs.
Add the sugar, processing to mix. Then add the melted butter and pulse to mix.
Press into the bottom of the prepared pan and bake 5 minutes. Cool.
To prepare the filling: Clean the processor.
Add the eggs, cream cheese, sugar and vanilla; process until smooth and creamy.
Pour over the crust and bake about 20 minutes or until firm in the center when the dish is gently shaken.
Cool on a rack.
To prepare the topping: Combine the cranberry juice concentrate, 1/4 cup water and the sugar in a saucepan.
Stir over medium-low heat to dissolve the sugar. Bring the mixture to a simmer.
Dissolve the cornstarch in the remaining 1/4 cup water.
Whisk into liquid and cook until thickened and clear, about 1 minute.
Remove from the heat and stir in the lemon zest, juice and nutmeg. Cool.
Rinse the berries briefly, and remove any stems. Let drain.
Stir into the topping, then pour over the cheesecake, spreading evenly.
Refrigerate at least 1 hour.
Category
Dessert
Related

All Chinet® Recipes
Ratings & Reviews
Be the first to rate & review this recipe!