Dessert Recipes
Minute Maid Monkey Bread
Summary
What You Need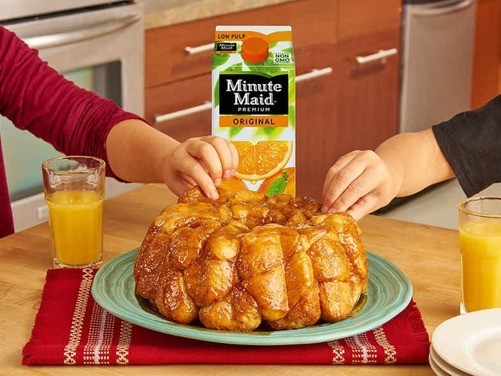 Instructions
Orange caramel glaze: In a small saucepan, bring Minute Maid Orange Juice to a boil. Continue to cook, stirring occasionally until reduced to ½ cup  (about 10 minutes). Let cool slightly. Stir in one stick butter and brown sugar, and stir to combine. Set aside.
Assemble: Spray 10-cup Bundt or tube pan with non-stick cooking spray. In medium size bowl, melt one stick butter. In separate medium size bowl stir together granulated sugar and cinnamon. Pour ¼ cup of orange caramel sauce into bottom of prepared pan. Cut bread dough into 48 equal pieces. With one hand, dip 4 dough pieces into melted butter. Transfer to cinnamon sugar. With other hand, roll in cinnamon sugar to coat and transfer to prepared pan. Repeat 2 times. Pour 1/4 cup of orange glaze over dough pieces. Repeat whole process 2 more times to use up remaining dough pieces and glaze. The first layer will have 12 pieces, the second layer 16 pieces and the final layer 20 pieces. You should have 4 layers of glaze and 3 layers of dough pieces. Cover with plastic wrap and refrigerate overnight (or for 3-4 hours). Reserve remaining Minute Maid Orange caramel for another use. *
Prepare: Remove from refrigerator. Let rise on counter for about 1½ hours or until dough has almost doubled in size. Preheat oven to 350 degrees. Bake for 45 minutes or until golden brown on top.  Remove from oven. Let sit for 2 minutes. Invert onto platter. Serve warm.
*Use the remaining Minute Maid Orange glaze for even more great treats! As an ice cream topping, dipping for pretzels and more! 
Category
Dessert
Related

All Coca-Cola Recipes
Ratings & Reviews
Be the first to rate & review this recipe!