Dessert Recipes
French Yule Log
Summary
What You Need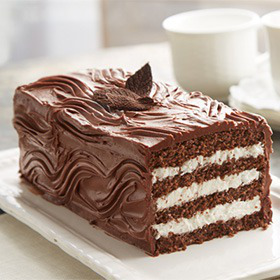 Instructions
Heat oven to 350°F. Line 15x10 1/2-inch jelly-roll pan with foil; generously grease foil. Sprinkle linen or thin cotton towel with 1/4 cup powdered sugar.
Beat egg yolks in medium bowl 3 minutes on medium speed of mixer. Gradually add 1/2 cup granulated sugar, beating another 2 minutes until thick and lemon-colored. Combine almonds, flour, cocoa, baking soda and salt; add alternately with water to egg yolk mixture, beating on low speed just until blended. Stir in vanilla and almond extracts.
Beat egg whites in large bowl until foamy. Gradually add remaining 1/4 cup granulated sugar, beating until stiff peaks form. Carefully fold chocolate mixture into beaten egg whites. Spread batter evenly in prepared pan.
Bake 16 to 18 minutes or until top springs back when lightly touched. Cool in pan on wire rack 10 minutes; remove from pan onto prepared towel. Carefully remove foil. Cool completely. Cut into four equal rectangles approximately 3 1/2x10 inches.
Prepare WHIPPED CREAM FILLING; immediately fill and assemble cake layers. Place one cake layer on serving plate. Spread one-third (about 1 cup) filling evenly over cake layer; top with another cake layer. Repeat with remaining cake and filling, ending with cake layer. Refrigerate about 1 hour before frosting.
Prepare CREAMY COCOA LOG FROSTING; generously frost sides and top of cake loaf. Swirl frosting with spatula or score with fork to resemble bark. Refrigerate at least 4 hours before serving. Garnish with shaved chocolate and chocolate leaves, if desired. Cover; refrigerate leftover dessert.
Number of servings (yield)
18 Servings
Category
Dessert
Related

All Hershey Recipes
Ratings & Reviews
Yes this recipe of perfect for a holiday office party! My husband's soldiers were in love with this dessert when I brought it into the office for them to share. They all thought I purchased it at a designer bakery. This dessert is a huge winner in my book!!
Bobbi P. – 12/04/2014 –