Dessert Recipes
Firecracker Cake
Summary
What You Need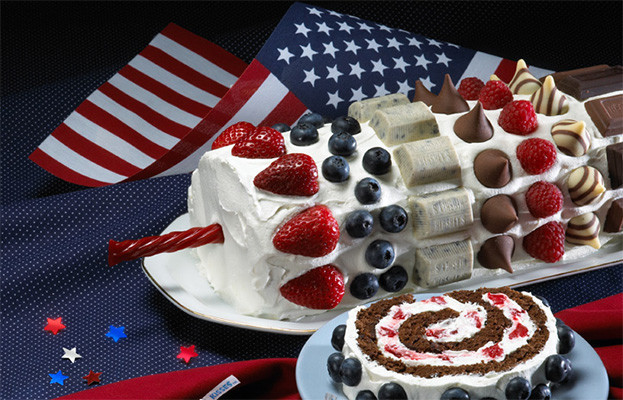 Instructions
Heat oven to 375 F. Line 15-1/2x10-1/2x1-inch jelly-roll pan with foil; generously grease foil.
Beat egg whites in large bowl until foamy; gradually add 1/2 cup granulated sugar, beating until stiff peaks form.
Beat egg yolks and vanilla in small bowl on high speed of mixer about 3 minutes. Gradually add remaining 1/3 cup granulated sugar; continue beating 2 minutes. Combine flour, cocoa, baking powder, baking soda and salt; add to egg yolk mixture alternately with water on low speed, beating just until batter is smooth.
Fold chocolate mixture gradually into egg whites; spread evenly in prepared pan.
Bake 12 to 15 minutes or until top springs back when touched lightly in center. Immediately loosen cake from edges of pan;invert on towel sprinkled with powdered sugar. Carefully remove foil. Immediately roll cake in towel, starting from narrow end; place on wire rack to cool.
Unroll cake; remove towel. Spread with pie filling and 1-1/2 cups whipped topping; reroll cake. Frost cake with remaining whipped topping. Place candies and fruit on frosted cake so that they form stripes around the cake. Add strawberry twist for "wick". Refrigerate until serving time.
Number of servings (yield)
Serves 8 to 10
Category
Dessert
Related

All Hershey Recipes
Ratings & Reviews
Perfect for my 4th of July party!!
Bobbi P. – 07/01/2014 –