Dessert Recipes
Egg Filled Nest Cookies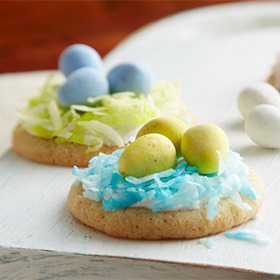 Instructions
Heat oven to 350°F
Beat butter and sugar in large bowl until well blended. Add egg and vanilla; beat well. Stir together flour, baking soda and salt; gradually add to butter mixture, beating until blended. Shape dough into 3/4-inch (about 1 measuring teaspoon dough) balls.* Place balls on ungreased cookie sheet.
Bake 9 to 11 minutes or until light golden brown. Cool slightly; remove from cookie sheet to wire rack. Cool completely.
Place 1 teaspoon water and 2 to 3 drops food color in resealable food storage bag. Add coconut; shake bag and coconut to evenly color coconut. (Coconut may be divided if more than one color is desired.)
Frost cookies. Immediately sprinkle with coconut and top with 2 to 3 candy eggs. Makes about 8 dozen (1-3/4 inch) cookies.**
* If larger cookies are desired, roll dough into 1-inch balls. Bake 10 to 12 minutes. Yield will be about 3-1/2 dozen (2-1/2 inch) cookies.
** To decorate all cookies 2 bags of eggs will be needed.
Number of servings (yield)
8 dozen
Category
Dessert
Related

All Hershey Recipes
Ratings & Reviews
These are super easy to make. Turned out great, kids loved them.
Angela R. – 02/28/2015 –
My kiddo loved making these and mommy loved eating them!
Jess S. – 03/04/2015 –