Dessert Recipes
Double KISSES Truffles Recipe
Summary
What You Need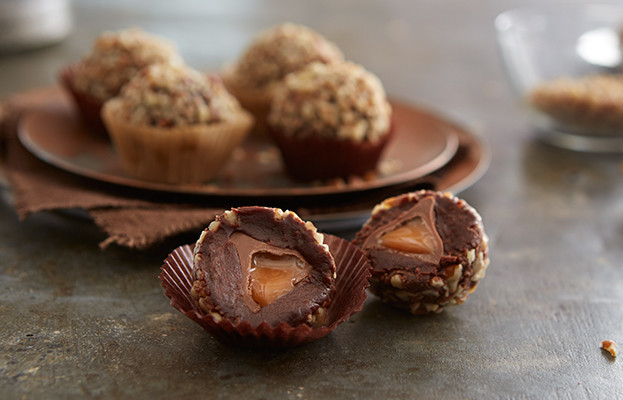 Instructions
Remove wrappers from milk chocolates. Place milk chocolates and whipping cream in medium microwave-safe bowl. Microwave at MEDIUM (50%) 1 minute; stir. If necessary, microwave at MEDIUM 15 seconds at a time, stirring after each heating, until chocolates are melted and mixture is smooth when stirred. Cover; refrigerate 4 to 6 hours or until firm.
Remove wrappers from caramel filled milk chocolates. Using about 1 tablespoon milk chocolate mixture for each truffle, shape chocolate around each caramel chocolate piece; roll in hand to make ball. (Be sure to cover each chocolate piece completely.) Roll in pecans; refrigerate until ready to serve. For best chocolate flavor, allow truffles to soften at room temperature about 5 minutes before eating. 10 truffles.
Number of servings (yield)
10 truffles
Category
Dessert
Related

All Hershey Recipes
Ratings & Reviews
Be the first to rate & review this recipe!