Dessert Recipes
Chocolate Ice Crispy Pie Sundae
Summary
What You Need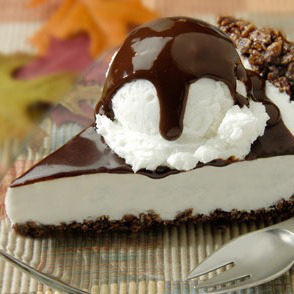 Instructions
Butter 9-inch pie plate.
Place syrup and chips in medium microwave-safe bowl. Microwave at MEDIUM (50%) 45 seconds or until hot; stir until smooth. Remove 1/4 cup chocolate mixture to small bowl; set aside. Add cereal to remaining chocolate mixture, stirring until well coated; cool slightly.
Using back of spoon, press mixture evenly on bottom and up sides of prepared pie plate to form crust. Place in freezer 15 to 20 minutes or until crust is firm. Spread one-half of ice cream into crust; spoon chocolate sauce over layer. Top with scoops of remaining ice cream. Cover; return to freezer until serving time. Drizzle with additional chocolate syrup just before serving.
VARIATION: COCONUT-CEREAL CRUST: Decrease cereal to 1-3/4 cups; add 1/2 cup MOUNDS Sweetened Coconut Flakes.
Number of servings (yield)
8 servings
Category
Dessert
Related

All Hershey Recipes
Ratings & Reviews
Wow...Hershey's out did it on this one...my family said nothing while eating it...yepo it is that good!
Anonymous – 06/02/2014 –