Dessert Recipes
Caramel Thumbprint Cookies
Summary
What You Need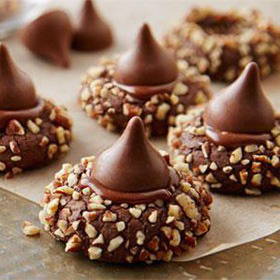 Instructions
Heat oven to 350°F. Remove wrappers from caramel filled chocolates. Line cookie sheet with parchment paper or lightly grease.
Beat brownie mix, pouch of syrup, cocoa, egg, water and oil in medium bowl until well blended. Shape dough into 48 1-inch balls. Roll balls in pecans, if desired. Place on prepared cookie sheet; press thumb gently in center of each cookie.
Bake 9 to 11 minutes or until set. Cool slightly; carefully press center of each cookie again with thumb or tip of spoon to make indentation. Remove from cookie sheet to wire rack. Cool completely.
Place 18 caramel filled chocolates and milk in small microwave-safe bowl. Microwave at MEDIUM (50%) 30 seconds; stir. If necessary, microwave at MEDIUM an additional 10 seconds at a time, stirring after each heating, until chocolates are melted and smooth when stirred. Spoon slightly rounded 1/4 teaspoon caramel mixture into each indentation. Lightly press chocolate in center of each cookie.
Number of servings (yield)
48 cookies
Category
Dessert
Related

All Hershey Recipes
Ratings & Reviews
Yummy is not enough for these little guys.....they are amazing!!! This is a for sure a new holiday goodie at our home...thanks for sharing.
Bobbi P. – 12/05/2014 –