Dessert Recipes
Apple Crisp with Irish Cream
Summary
What You Need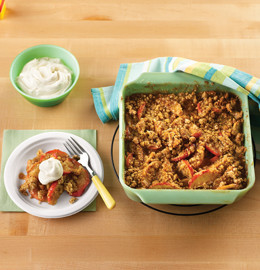 Instructions
Preheat the oven to 375 degrees F.
Lightly butter an 11-x-7-inch baking pan and set aside.
In a large skillet, melt 3 tablespoons of butter over medium-high heat.
Add the apples, lemon juice, 1/2-cup of the brown sugar and 1 tablespoon of the flour.
Stir well and cook for 5 minutes.
Add the whiskey, cinnamon, cardamom and salt, stir well, and cook for 1 minute.
Remove from the heat.
In a large bowl, combine the remaining flour, oatmeal and remaining 1/2 cup of sugar.
Add the remaining 5 tablespoons of butter, and with your fingers or a pastry blender, work the mixture until it resembles coarse crumbs.
Add the walnuts and mix well.
Place the apple mixture in the greased pan and sprinkle the crumb mixture evenly over the top.
Bake until golden brown and bubbly, about 35 to 40 minutes.
Serve hot with the Irish Whiskey Cream.
Whip the cream until it begins to form soft peaks.
Add the sugar and whiskey and beat until stiff peaks form.
Cover and chill until needed.
Category
Dessert
Related

All Chinet® Recipes
Ratings & Reviews
Be the first to rate & review this recipe!