Breakfast Recipes
Santa Fe Breakfast Burrito
Summary
6 PointsPlus® Value per serving.
What You Need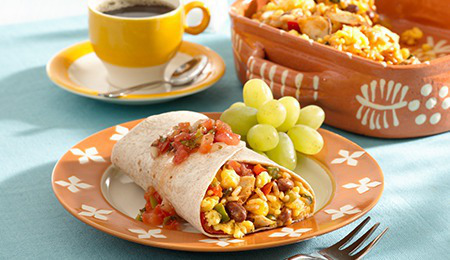 Instructions
Cook each Smart Ones® Cheesy Scramble with Hashbrowns meal and Santa Fe Style Rice & Beans meal according to package instructions.
To a large bowl, add both meals and mix together.
Wrap four tortillas in a damp paper towel and microwave on HIGH for 15 seconds.
Fill each tortilla with 1/4 of the rice, bean and egg mixture.
Roll burritos. Top each with 2 Tbsp. of salsa. Enjoy!
Number of servings (yield)
Makes 4 servings, 6.5 oz. per serving
Category
Breakfast
Submitted by
Smart Ones®
Ratings & Reviews
I made these this weekend for my husband's soldier that were in the field...they all loved them! I wrapped them in foil so they would stay warm on the drive out there. They all said they were amazing!
Bobbi P. – 11/03/2014 –
There is nothing better than a DELICIOUS breakfast burrito!
Cerra S. – 11/21/2014 –