Breakfast Recipes
Eggs Benedict "Maryland" Style
Summary
What You Need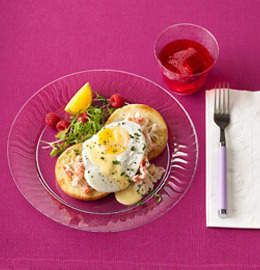 Instructions
CRAB SALAD - In a large bowl, whisk together all ingredients except red pepper and crabmeat. Gently fold in the crab and peppers. Reserve.
HOLLANDAISE SAUCE - Combine all ingredients, except the vinegar, in the top of a double boiler, over boiling water. Whisk until thick, approximately 3 minutes; set aside until ready to use. Do not reheat or cover the pot. Stir in the vinegar.
POACHED EGGS - Bring the water, vinegar and salt to a low simmer in a medium saucepan. Crack an egg into a small ramekin and gently slide the egg into the water. Crack another egg into the same cup, and while the water returns to a low simmer, slide the second egg into the water. Repeat. Let slowly simmer until the eggs are set. This will take about 2 to 3 minutes for soft, runny yolks. Remove with a slotted spoon onto a paper-towel-lined plate.
TO PLATE - Top a toasted English muffin with crab salad. Top with egg and hollandaise. Garnish with parsley. Serve immediately.
Category
Breakfast
Related

All Chinet® Recipes
Ratings & Reviews
Sunday breakfast was a hit thanks to you and this amazing recipe!
Bobbi P. – 02/06/2015 –