Breakfast Recipes
Bologna and Egg Breakfast Burritos
Summary
What You Need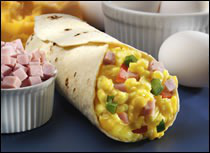 Instructions
Sauté onion, tomato, green bell pepper and garlic over medium heat in large nonstick skillet coated with nonstick cooking spray for 3-5 minutes or until tender, stirring occasionally.
Beat together eggs, salt and black pepper in medium bowl until combined. Pour egg mixture over vegetables in skillet. Cook over medium heat, until eggs are cooked through. Fold in cubed bologna and cheese; continue cooking until heated through, gently folding mixture occasionally. Remove skillet from heat.
To assemble burritos, spoon mixture into center and fold bottom up over the filing and roll. To warm burritos, place on a microwave safe plate, cover with a damp paper towel and microwave on high for about 30 seconds.
Top with your favorite salsa before serving.
Number of servings (yield)
8 servings
Category
Breakfast
Submitted by
John Morrell
Ratings & Reviews
Yummy all around...I made this for my family yesterday morning and they were amazed! Great idea!
Bobbi P. – 07/07/2014 –