Breakfast Recipes
Avocado & Fried Egg Sweet Potato Toasts
Summary
What You Need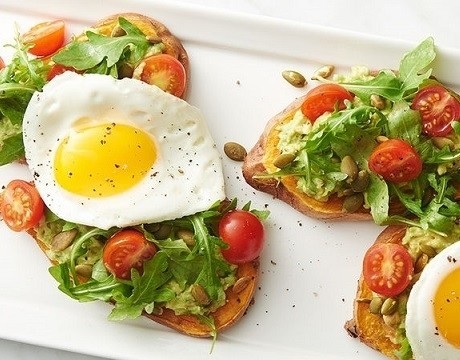 Instructions
Heat oven to 425 degrees.
Brush both sides of sweet potato slices with 1 tablespoon of the olive oil; place on ungreased large cookie sheet.
Bake 15 to 20 minutes, turning once, until golden brown. Transfer to cooling rack.
Meanwhile, in medium bowl, mash avocado with lemon juice and 1/4 teaspoon of the salt. Set aside.
Heat remaining 1 tablespoon oil in 10-inch skillet over medium heat.
Break egg into custard cup; carefully slide into skillet from custard cup. Repeat with other egg.
Immediately reduce heat to low. Season eggs with remaining 1/4 teaspoon salt; cook 4 to 5 minutes, spooning oil over eggs, until yolks are set.
In medium bowl, toss arugula and cherry tomatoes with Annie's Organic Balsamic Vinaigrette.
Divide sweet potato slices among two serving plates; top each with avocado mixture, pumpkin seeds, arugula mixture and egg.
Category
Breakfast
Related

All General Mills Recipes
Ratings & Reviews
Be the first to rate & review this recipe!