Beverage Recipes
Black-Tea Lemonade
Summary
Garnish filled glasses with sprigs of fresh mint or rosemary.
What You Need
1 qt. (4 cups) water, divided
2 black tea bags
1/4 cup COUNTRY TIME Lemonade Flavor Drink Mix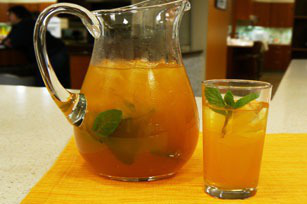 Instructions
BRING 3 cups water to boil; pour over tea bags. Let stand 10 min.
ADD remaining water to drink mix in 1-qt. pitcher; stir until mix is dissolved. Add tea; stir. Refrigerate several hours or until chilled.
SERVE over ice.
Cooking time (duration)
prep: 10 min total: 2 hr 20 min
Number of servings (yield)
4 servings, 1 cup each
Category
Beverage
Submitted by
Kraft
Ratings & Reviews
Now, this is what I am talking about! This drink is so yummy and it really hits the spot.
Anonymous – 04/25/2014 –
i was skeptical about the black tea but gave it a try and it is a good mix with the two!!
Angela D. – 04/25/2014 –