Appetizer Recipes
Sausage Stuffed Mushrooms
Summary
What You Need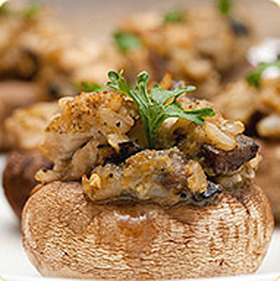 Instructions
Preheat oven to 400°.
In a large skillet over medium-high heat, brown sausage for 5 minutes.
Drain fat, reserving 1 Tbsp.
Add mushroom stems and onion, and sauté; for additional 5 minutes.
Remove from heat.
Add reserved 1 Tbsp. of fat and all remaining ingredients.
Stir until well mixed.
Spoon filling onto mushroom caps and place on baking sheet.
Spray mushrooms with nonstick cooking spray and bake for 12 to 15 minutes, or until lightly browned.
Tip: Can be prepared a day in advance, up to spooning filling step. Cover tightly and store in refrigerator until ready to bake.
Cooking time (duration)
35 Minutes
Number of servings (yield)
24 Servings
Category
Appetizer
Submitted by
Lea and Perrins
Ratings & Reviews
I absolutely cannot wait to make these! They look so delicious!
Cerra S. – 10/18/2014 –