Appetizer Recipes
Creamy Corn Queso Dip
Summary
This five-ingredient hot cheese party dip combines the goodness of corn with tomatoes and chilies.
What You Need
2 can (15.25oz.each) Del Monte® No Salt Added Whole Kernel Corn, drained
1 can (14.5oz.) Del Monte® Petite Cut Diced Tomatoes with Zesty Jalapenos, not drained
1 lb. processed cheese product, diced
1 can (4oz.) diced green chilies, drained
4 tsps. hot sauce
¼ cup sliced green onion [or chopped fresh cilantro], optional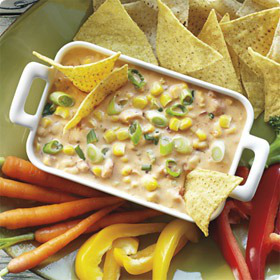 Instructions
RESERVE 1/2 cup corn for garnish; set aside.
COMBINE all remaining ingredients except green onion in a 6-cup microwave-safe bowl.
COVER loosely and microwave on HIGH, 6 to 7 minutes or until cheese is melted, stirring halfway through.
STIR, and garnish with reserved corn and green onions, if desired.
SERVE warm with tortilla chips or vegetables.
Variation
Spicy Corn Queso Dip – Stir in additional hot sauce to taste before serving!
Cooking time (duration)
Prep: 5 min, Total: 10 min.
Number of servings (yield)
16
Category
Appetizer
Submitted by
Del Monte
Ratings & Reviews
Wow....yummy! We are planning my birthday party this month...and this will be on our food table for sure.
Bobbi P. – 08/11/2014 –
My husband and I had this at a party years ago and I am so glad to have finally come across the recipe!! Yay!!! Best dip EVER!
Cerra S. – 08/14/2014 –