Appetizer Recipes
Chicken and Spinach Cups
Summary
Chicken and Spinach Cups made with Heinz HomeStyle Rich Mushroom Gravy
What You Need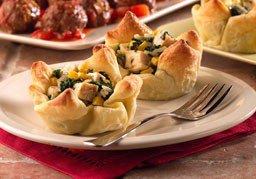 Instructions
Preheat oven to 425°F.
Place 2 nonstick muffin cup pans (12 muffins each) onto baking sheets.
Mix 1/2 cup hot water with granules until dissolved.
Add gravy and stir until smooth.
Mix in chicken, spinach, rice, and corn.
Unroll one pastry sheet onto lightly floured surface and cut into 12 pieces.
Using a floured rolling pin, roll each piece into about 4 inch square size.
Gently place one pastry into each muffin cup to form cup shape and place a large spoonful of chicken filling into each.
Repeat with second pastry sheet.
Bake for 15-20 minutes, or until golden brown.
Allow to cool for 5 minutes before removing from pan.
Serve warm or at room temperature.
Cooking time (duration)
50 Minutes
Category
Appetizer
Submitted by
Heinz HomeStyle Gravy
Ratings & Reviews
I made this for a starter and it was a huge hit at the party...everyone wanted my recipe!
Bobbi P. – 10/22/2014 –
Can't wait to make these for my New Year's Eve Party!! YAY! They look sooooooooo yummy!
Cerra S. – 12/29/2014 –