Appetizer Recipes
Baked Salmon Croquettes
Summary
What You Need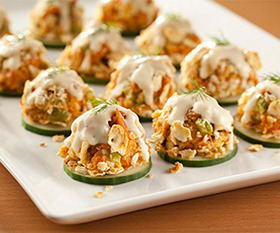 Instructions
Preheat oven at 400°F.
In a medium bowl, combine 1/4 cup cracker crumbs, 1/2 cup Classico® Light Asiago Romano Alfredo Pasta Sauce, salmon, celery, onion and egg.
Chill for 15 minutes.
In a shallow pan, place remaining cracker crumbs.
Remove salmon mixture from refrigerator and using a soup spoon, form into small spheres, about 24.
Coat with cracker crumbs and place onto a baking sheet.
Bake for 15 minutes or until outside is a golden brown.
Meanwhile, arrange cucumber slices on a serving dish.
In a small pot, heat remaining pasta sauce over medium heat for 3-5 min, stirring occasionally.
Place one croquette on each cucumber slice and top with a dollop of the remaining sauce.
Cooking time (duration)
45 Minutes
Number of servings (yield)
12 Servings
Category
Appetizer
Submitted by
Classico
Ratings & Reviews
What a great recipe! My kiddos help me prepare these and not only did we have a blast, they tasted amazing!!
Bobbi P. – 10/20/2014 –