Appetizer Recipes
Baked Cheese & Chili Pepper Dip
Summary
Spicy chili peppers and roasted corn make this warm cheese dip dance in your mouth.
What You Need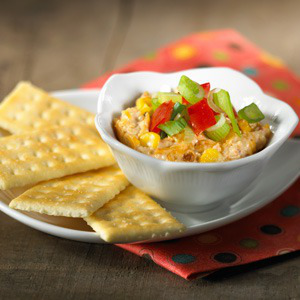 Instructions
COMBINE cream cheese, mayonnaise, green chili peppers, chipotle chili peppers and garlic powder in food processor bowl.
COVER and process until nearly smooth.
TRANSFER mixture to bowl.
STIR IN cheddar cheese, Monterey Jack cheese and corn.
SPOON into shallow 1-quart casserole or 9-inch pie plate coated with cooking spray.
BAKE at 350°F for 15 to 20 minutes or until bubbly around the edge.
SPRINKLE tomato and green onions on top. Serve with KEEBLER CLUB Original crackers.
Cooking time (duration)
Prep Time:15 min, Total Time:30 min
Number of servings (yield)
28
Category
Appetizer
Related

All Kellogg's Recipes
Ratings & Reviews
If you are having a game night at your home, or just having the neighbors over for dinner, this is the perfect dish to serve. You can serve with chips, crackers, or veggies...trust me this one is a keeper!
Bobbi P. – 11/07/2014 –