Appetizer Recipes
Bacon Avocado Cheeseburger Sliders
Summary
What You Need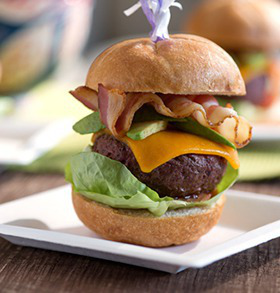 Instructions
Ready to make these incredible sliders?
First, use your hands to mix together the ground chuck, steak sauce, garlic clove, sea salt and black pepper.
Then make small patties that are slightly larger than the slider buns.
To cook, put the patties on a skillet or grill until desired temperature is reached.
For extra flavor, put cheddar cheese slices on the patties while they're still on the skillet or grill.
When the cheese is melted, place the patties on the bun bottoms and add layers of tomato, lettuce, avocado and bacon.
Then, top off your perfect slider with the top bun and spear with party picks.
Place your sliders on Chinet® Classic White™ Square Dinner Plates and serve to your friends.
And don't be surprised if they ask for more than one!
Category
Appetizer
Related

All Chinet® Recipes
Ratings & Reviews
I love BBQ time and this is the perfect addition to my weekend parties. We love to host and I am always looking for a fun new food to serve.
Anonymous – 03/31/2014 –