The Coca-Cola Company is the world's largest beverage company, refreshing consumers with more than 500 sparkling and still brands and more than 3,800 beverage choices. Led by Coca-Cola, one of the world's most valuable and recognizable brands, our company's portfolio features 20 brands, 18 of which are available in reduced-, low- or no-calorie options. More than 1.9 billion servings of our beverages are enjoyed by consumers in more than 200 countries each day.
Giveaways
SIP. SCAN. SCORE.
Score a chance to get a team in the SWEET SIXTEEN®. When they win, you win!
Enter Now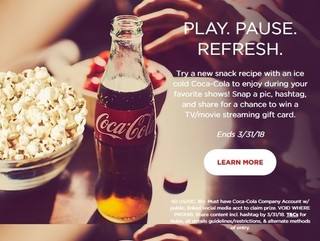 PLAY. PAUSE. REFRESH.
Try a new snack recipe with an ice cold Coca-Cola to enjoy during your favorite shows! Snap a pic, hashtag, and share for a chance to win a TV/movie streaming gift card.
Enter Now
Prices listed are available only at CONUS Commissaries while supplies last unless otherwise noted. Pricing and products may vary by Commissary or Exchange location.
Serve. Save. Enjoy.