Nestlé USA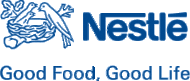 It's a pleasure to welcome you to Nestle USA. Our corporate headquarters is located in Glendale, California. As part of a worldwide company founded on the principles of nutrition, health and wellness, all of us at Nestlé USA understand the importance of giving our consumers food and beverages that taste great AND help them feel good. That's what "Nestlé. Good Food, Good Life" is all about.
SAVE

Pizzeria! Primo Pepperoni

18.7 oz

SAVE

Coffee-mate French Vanilla Powder Coffee Creamer

15 oz

SAVE

Juicy Juice - Slim Pack Punch

54 oz

NEW

Nestle Butterfinger Peanut Butter Cups

1.5 oz
Prices listed are only available at commissaries.